News
UN and partners seek $7 billion to prevent catastrophe in the Horn of Africa — Global Issues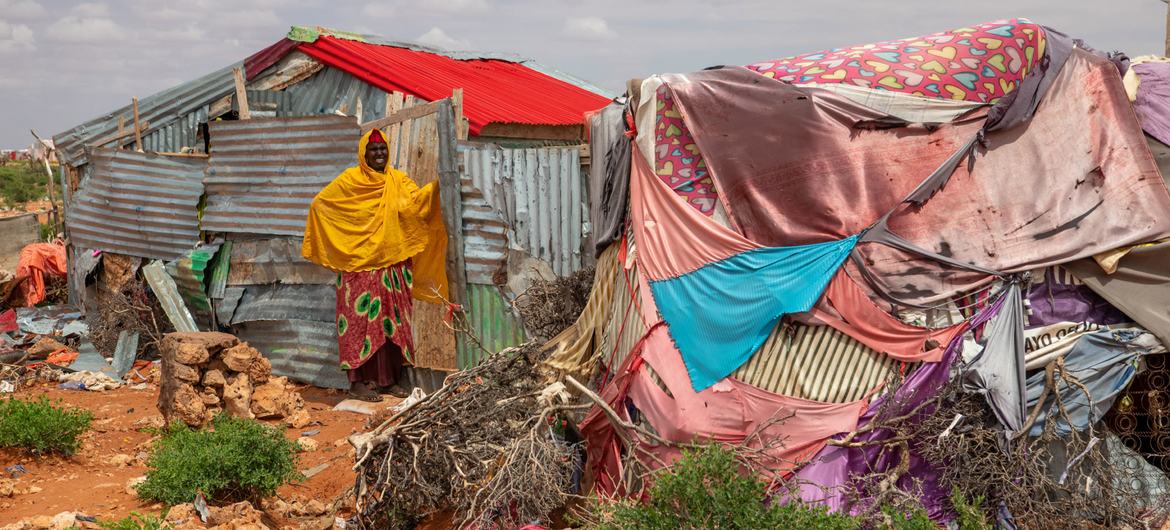 More than 43 million people across Ethiopia, Kenya and Somalia continue to suffer through one of the worst droughts in recent history, caused by five consecutive seasons of poor rains.
Years of conflict and insecurity have sparked mass displacement, while skyrocketing food prices and most recently, the fighting in Sudan, have compounded the situation.
It was announced later in the day that $2.4 billion had been pledged by donors.
Appeal for action
"We must act now to prevent crisis from turning into catastrophe," Mr. Guterres said. "Let us act together now – with greater urgency and far greater support."
The pledging event was convened by the UN and Italy, Qatar, the United Kingdom and the United States, in collaboration with the three affected countries.
The Secretary-General saw the devastating impact of the drought first-hand during recent visits to Kenya and Somalia.
Families search for food
"In parts of northern Kenya, parched landscapes and perished livestock have driven families from their homes in search of water, food, and incomes," he said.
While in the Somali city of Baidoa, he met communities who lost their livelihoods to drought and insecurity, as the battle against Al-Shabaab militants continues.
"I was deeply moved by their struggles. And I was inspired by their resilience, courage, and determination to rebuild their lives. But they cannot do it alone," he said.
Step up support
The UN chief assured that "action will make all the difference." Last year, donors delivered life-saving assistance to 20 million people and helped avert a famine.
He called for increased support for humanitarian plans for the region which are currently less than 20 per cent funded.
This is "unacceptable", he said, warning that without an immediate financial injection, "emergency operations will grind to a halt, and people will die."
Build climate resilience
He said the drought in Somalia last year claimed 40,000 lives, and half were children under five, according to the World Health Organization (WHO) and the UN Children's Fund (UNICEF).
Although recent rains have brought some relief, vulnerable communities are still facing another year of immense hardship.
"People in the Horn of Africa are paying an unconscionable price for a climate crisis they did nothing to cause," he said.
"We owe them solidarity. We owe them assistance. And we owe them a measure of hope for the future. This means immediate action to secure their survival. And it means sustained action to help communities across the Horn adapt and build resilience to climate change."
New challenges emerge
The heads of major UN agencies working in areas such as aid delivery, food security, health, and assistance to migrants and refugees, made the case for scaled-up support in a video played during the event.
The message was carried forward by Joyce Msuya, UN Assistant Secretary-General for Humanitarian Affairs and Deputy Emergency Relief Coordinator.
She said even though improved rains have started to ease the impacts of the drought, they have also brought new risks and challenges, including disease outbreaks.
"The humanitarian community is determined to provide the support that people need. But five months into the year, funding is critically short," she told participants.
Cash-based food assistance "has fallen off dramatically", she said, "and humanitarian partners are already running out of money, with many facing the possibility of having to suspend, scale back or shut down programmes."
Sowing seeds of hope
Somalia's Foreign Minister Abshir Omar Huruse was among senior representatives from the affected countries who addressed the pledging conference.
He said it comes at a critical time, as the Federal Government and partners have liberated more than a third of those areas previously controlled by Al-Shabaab.
"This means that we can reach more people with life-saving humanitarian support and high impact development projects," he said.
Mr. Huruse urged donors to consider increasing their funding, saying "together we shall sow the seeds of hope (and) nurture a future in which no life is lost due to lack of assistance."
Source link