News
Migration chief hails 'proud and brave' citizens of Antakya — Global Issues
"In the ruins of historic Antakya city today, I met proud and brave people whose past has been eradicated, whose present is full of suffering and whose future is uncertain," said António Vitorino, following a two-day visit to Türkiye, which included meetings with senior Government officials.
"I am in awe of IOM colleagues and our many partners who began responding within hours of the earthquake, despite being affected themselves.
'Now comes the long haul'
"But now comes the long haul; standing in solidarity and action with Türkiye as it rebuilds and creates a new future for the millions whose lives have been torn apart," added Mr. Vitorino.
He said the sacrifices made by the numerous "humanitarian heroes" who dug so many out of the would never be forgotten, "and one of the reasons I am here is to pay tribute and condolences to them, and particularly to the families of the three IOM staff who perished.
"Our teams overcame complex coordination and logistical issues, as well as personal tragedies, to get aid rapidly to affected communities in Türkiye and northwest Syria."
Three days after the disaster, IOM was one of the first UN agencies to restart cross border assistance, noted Mr Vitorino, visiting a logistics hub close to the border, which has been vital to the response as a transit point for thousands of tons of aid being brought into northwest Syria.
150 trucks and counting
So far in the response, IOM has dispatched over 150 aid trucks across the border.
The UN reports that more than 500,000 in Syria have been made homeless by the earthquakes, and in Türkiye, more than 1.9 million are staying in temporary accommodation shelters, with 2.5 million children needing urgent humanitarian assistance.
A total of 850,00 children from both countries are displaced, and the UN emergency response plans for both countries requires nearly $1.4 billion to cover the first three months of critical aid. More than five million across Türkiye need life-saving assistance.
The 2023 response plan for Syria overall, will require $4.8 billion, the largest humanitarian appeal currently active.
Mr. Vitorino met Türkiye's Presidency of Migration Management at a Government-run temporary accommodation centre for those made homeless, including the local community, migrants and some Syrians under temporary protection.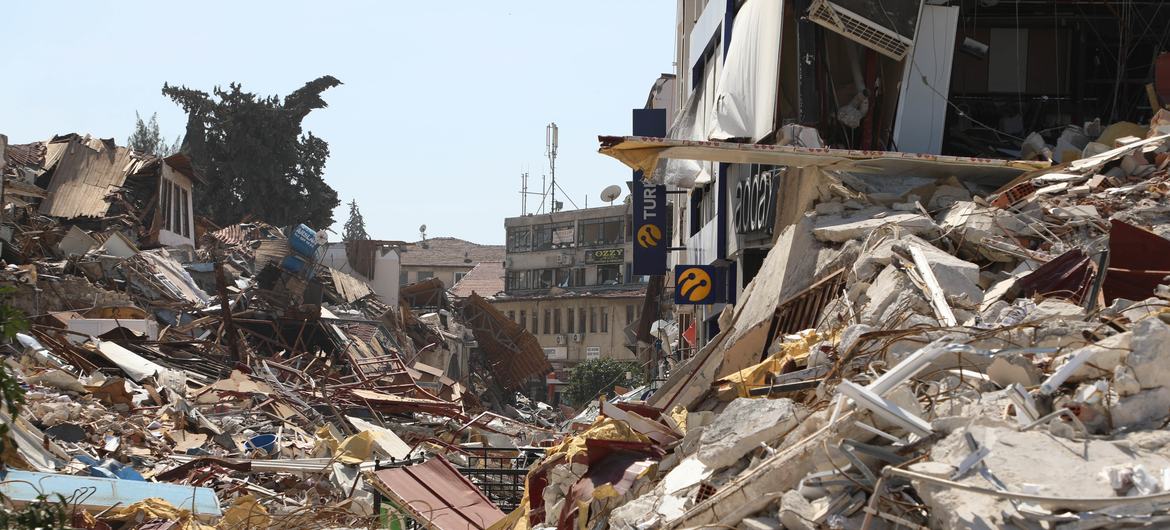 'We've lost it all'
Nawfal Melish, a Syrian national now living at the centre, told the IOM chief that has family used to live in Hatay and wanted for nothing.
"But now we've lost it all. I worked in a shop, but that was destroyed by the earthquake, just like my house, but now we will start a new life. We are finding this displacement more difficult than the first one, when we had to leave Syria because of the war."
On Friday, in the capital Ankara, Mr Vitorino met the head of the Coordination Centre of the Turkish Disaster and Emergency Management office, Yunus Sezer, a Government agency leading the response.
"I was highly impressed with the Turkish Government's emergency response in the face of an unimaginable calamity, he said, "and I am ever more proud of the strong relationship IOM has had with this country since our local office was first opened over 30 years ago.
Support for moving forward
"We continue to provide our operational capacity and experience to the Government to support them in moving forward on the road to recovery".
IOM's appeal for $161 million to support response efforts in Türkiye and northwest Syria is currently less than 30 per cent funded.
Source link